ATHLETES COACHED IN HOUSE
PERSONAL TRAINERS EDUCATED
Meet The WSSC Team
Woodford Sport Science Consulting
Christian Woodford
Director of Athletic Performance
Geoff Woodford
Chief Financial Officer
Kerryn Roadley
Operations Manager
Jay Ellis
Senior Performance Coach
Tommy Duspara
Gym Manager/Performance coach
Jeremy Borzillo
Performance Coach
Jaye Edmunds
Performance Coach
Chris Dikranis
Performance Coach
Jorden Radliff
Performance Physiotherapist
Christian Woodford
Director of Athletic Performance
Christian Woodford's name is the biggest in sports performance, injury prevention and rehab – return to perform in Australia (while pioneering the growth, development and understanding of applied sport science/athletic development in The Australian private sector). Over the last 8 years (est. 2012) Christian & WSSC have become world renowned and some of the best coaches in the world such as Joe Defranco giving their tick of approval to WSSC & Christian.
Christian is known for his athlete centred and RESULTS driven approach to his coaching. Athletes from professional, semi professional, amateur to weekend warrior (both here and abroad) have all hire Christian to prepare them for sporting performance, injury reduction & rehab -return to perform coaching.
Christian's passion for applied sport science, coaching and the industry has developed him into the coach that is #changingthegame in the private sector not just in Australia but around the world.
Christian offers consultancy for teams, individual athletes, coaches, students and upskill for other personal training, coaching companies.
Milestones, Achievements & Experience:
Bachelor Of Applied Science (Exercise Science)
Honours in Exercise Neuroscience
Member of ASCA (Australia Strength and Conditioning Association)
Member of NSCA (National Strength and Conditioning Association)
Australian Gridiron Team (Gridiron Australia) – Strength and
Conditioning Coach
Victorian Gridiron Team (Gridiron Victoria) – Head Strength and Conditioning Coach and Sport Scientist
VIS (Victorian Institute of Sport) – Victorian Institute of Sport Trainee
Maryland University (USA) Division I Football Department – Assisting Strength and Conditioning Coach
FFV (Football federation Victoria) – Head Sport Scientist
Melbourne Victory Youth (A League) – Fitness Coach
Oakleigh Chargers (TAC Cup) – Strength and Conditioning Coach
Private Strength and Conditioning Consultant to Teams and Individuals at the Elite, Sub Elite and Amateur Level
Some of the athletes Christian has coached
For Christian's full testimonial page go to christianwoodford.com
Ben Reid
AFL, Collingwood FC
Josh Dacios
AFL, Collingwood FC
Max Gawn
AFL, Melbourne FC
Corey Manard
former AFL/NBL
Nick Dacios
AFL, Collingwood FC
Jackson Edwards
former AFL Adelaide FC
Charlie Spargo
AFL, Melbourne FC
Matt Hodgeson
NBL Brisbane Bullets, Australian Boomers
Patrick Bines
former AFL WCE
Jack Bines
Junior Australian rep, basketball
John Simpson
Professional Cricketer, Middlesex
Mikaela Cann
AFLW, Collingwood FC
Katie Lynch
AFLW, Collingwood FC
Jarrad Mullen
former NRL, New Castle Knights
Sandor Earl
NRL, Melbourne Storm
Campbell Somerville
Australian rep commonwealth games – Boxing
Heath Davidson
Paralympic Gold medallist wheelchair tennis
Geoff Woodford
Chief Financial Officer
The heart and soul of Woodford.
The Real Woodford. Without this man, none of this would exist.
Kerryn Roadley
Operations Manager
She has always had a passion for the fitness industry for over 20 years now and has extensive experience with many administrative tasks, including scheduling, correspondence and time management. Having held positions in administration, management and marketing, Kerryn is able to tailor her skills to meet the needs of our various clients.
Kerryn is able to interact directly with potential and existing clients, and handles everything with great professionalism. Kerryn believes in putting processes and systems in place to ensure they run effectively, efficiently and consistently. This structure supports what we're doing now and what we plan to be doing in the future.
Jay Ellis
Senior Performance Coach
Jay is a performance coach from Melbourne, Victoria, who coaches as part of the team at Woodford Sport Science Consulting. Having played a variety of sports growing up from cricket, to golf, to lifesaving, Jay's true passion was playing football. Eventually a string of injuries combined with a looming job opportunity at the Western Jets (TAC Cup) resulted in him pursuing his passion in sports off the field as a strength and conditioning coach. This coincided with the completion of his bachelor's degree of Exercise Science and Human Movement from Victoria University in 2010.
The next three years were spent working part time as a strength and conditioning coach at the Jets for a year, before taking over as High Performance Manager in 2012, a job which he proudly still holds coming into 2015. In 2014 Jay returned to study enrolling in his Masters Degree of Sport Science (strength & conditioning) at Edith Cowan University in Perth, at which time he also commenced working with AFL Victoria football academy as strength and conditioning coordinator for Vic Metro, as well as an internship assisting the strength and conditioning staff at Collingwood FC.
Jay now works full time as a strength and conditioning coach, dividing his time between the Western Jets, Vic Metro, Collingwood, WSSC and his study. Jay has worked with a variety of athletes including AFL, NBL, NCAA Div 2 College Football, NCAA Div 1 Basketball, VFL, TAC Cup and VIS/AIS athletes across a range of sports. This has given him a unique skill set making him a sought after coach in the private sector. His main areas of interest/expertise are in:
Strength and conditioning for AFL football
Junior athlete development
Injury rehabilitation.
Athlete conditioning and periodisation strategies.
Athlete Monitoring/ GPS analysis.
Sport Science principles
Having been fortunate enough to work with and learn from some of the greatest strength and conditioning coaches Australia has to offer Jay is now passionate about developing the industry and continuing to improve his skill set and raise the profile of both himself and the other hard working coaches in this country.
Milestones, Achievements & Experience:
CPPS Level 1 (Delivered by Joe de Franco via the Onnit Academy)
Certified Strength and Conditioning Specialist (CSCS)
Master's Degree Sport Science(Strength & Conditioning – Edith Cowan University.
Certificate 3&4 in Allied Health, 2014
Certificate 3 in Nutrition and Dietetics Assistance, 2014
Australian Strength and Conditioning
Association Level One Accreditation, ASCA, 2012
​Bachelor's Degree Exercise Science/Human Movement, Victoria University, 2010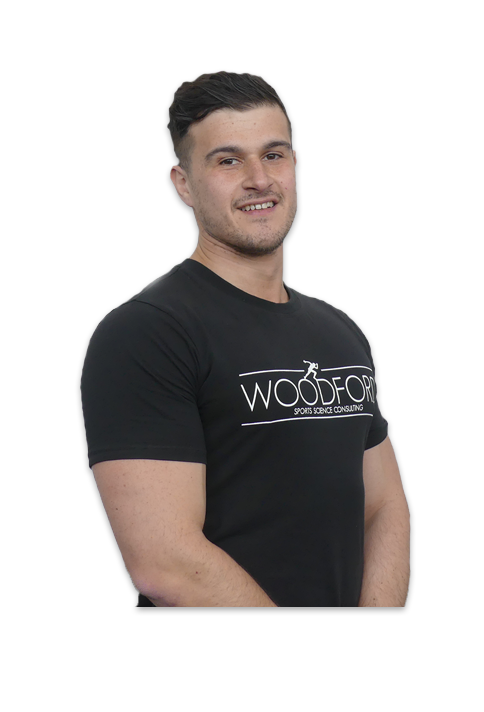 Tommy Duspara
Gym Manager/Performance coach
As a passionate certified personal trainer, Tommy's role is to motivate, enable and make training a
fun and rewarding experience. He loves to see his clients achieve their personal health and fitness
goals through a tailored approach of regular fitness activities and guided fitness programs.
With five years army experience, he understands the discipline and dedication required to take your
training to the next level and unlock your true potential, moving far beyond the limits of self-doubt.
Life is an adventure, filled with continual improvement and we can achieve our big audacious goals,
no how matter how big or small.
'Never say never. Because limits, like fears, are often just an illusion." – Michael Jordan.
He specialises and take pride in his knowledge of nutrition, powerlifting, and kickboxing and has completed his personal training course at WSSC.
Jeremy (Brick) Borzillo
Performance coach
Jeremy completed the WSSC mentorship in 2017, Jeremy has worked hard on refining his coaching craft through working with a number of different athletes within an wide variety of sports which includes Aussie rules, basketball, rugby and tennis to name a few.
Jeremy has also completed his Bachelor Degree in Exercise Science with Victoria University and has continued to work towards upskilling himself in the Exercise Science space. This includes completing various mentorships in the past couple of years which includes the Melbourne Strength Culture mentorship and most recently completing Will Berkman's mentorship as well.
Jeremy is also an avid powerlifter with his best lifts being an 245kg deadlift, an 205kg squat and an 115kg bench. Jeremy enjoys pushing hard in training but also making sure that he's able to build rapport, love and care with his clients so that they're able to get the best out of themselves and enjoy the training process.
Jeremy is also committed to get his clients to be the best versions of themselves and to build strength and power in the process whilst working as a performance coach at WSSC.
Milestones, Achievements & Experience:
Will Berkman mentorship (2021)
Melbourne Strength Culture Mentorship (2020)
WSSC Level 2 Mentorship (2019)
WSSC Level 1 Workshop (2018)
WSSC Mentorship (2017)
Bachelor of Exercise and Sport Science (2016)
Jaye Edmunds
Performance coach
Jaye has been a strength and conditioning coach at Woodford Sport Science Consulting for over 4 years. Having worked with a wide variety of athletes from all levels, Jaye brings a unique coaching experience amongst his clients. His particular interests fall with AFL players and athletes looking to enhance speed and power for improved athletic performance.
Major Coaching Roles & Achievements:
Casey Demons (VFL) – Strength & Rehab Coordinator
South Melbourne Womens Soccer (NPL) – Head Performance Coach
SFNL & SMJFL Umpires – Head performance coach
Woodford Sport Science Consulting Internship
WSSC ACL & Lower limb injury program – Performance Coach
Bachelor of Teaching & Exercise Science at Australian Catholic University
Chris Dikranis
Performance coach
Chris is a Strength and Conditioning Coach who is based in Melbourne, Victoria. Chris met Christian and the WSSC team as a work experience student recovering from his ACL rehabilitation. From the first encounter, Chris developed a large appreciation for the industry and began his journey as an athlete within the WSSC facility, which brought him back to playing at his beloved club, Bentleigh Greens in the National Premier league.
Over the course of half a decade, Chris developed as an athlete who observed, learned and applied Christians philosophies, completed an internship at WSSC to gain respect and growth in the industry and began coaching a wide range of eager and successful athletes who he continues to work with to this day.
Chris was exposed to many experiences as a junior athlete which acted as a catalyst to develop a large junior athletic development program at WSSC. The program allows driven, passionate and enthusiastic junior athletes to be exposed to the effective WSSC methodologies that have been proven time and time again to optimise performance and reduce the risk of injury. Consequently, maximising opportunities for junior athletes to take their game to the next level.
Having worked with Professional, Semi-Professional and amateur athletes across a number of different sports, Chris has developed a broad skill set that has allowed him to construct efficient systems that aim to maximise each and every individual's athletic development.
Through the exposure of many intelligent minds over the years with different coaches at WSSC, Chris has understood the criticality of translating the strength, power and speed developed in the gym into the fundamental motor skills completed across most sports. As a result, Chris has conducted a range of Speed, Acceleration and Change of Direction Programs that aim to bridge the gap between the gym and the field to ensure all athletic attributes are optimised.
As a Performance Coach at WSSC, Chris aims to implement a holistic approach; strength, power and speed to mindfulness and recovery. Allowing individuals to reach their "true" potential in terms of performance and life is something Chris will always cherish and strive to obtain via the integration of real coaching experience.
Milestones, Achievements & Experience:
Bachelor of Exercise and Sports Science, Deakin University (Currently completing)
Woodford Level 1 & 2 Strength, Power and Speed Workshop
Drouin Football Speed, Acceleration and Change of Direction Program
South Melbourne FC Speed, Acceleration and Change of Direction Program
WNPL South Melbourne FC Strength and Conditioning Coach
Physical Performance Testing Evaluator for South Melbourne FC
Jorden Radliff
Performance Physiotherapist
Jorden graduated with a Masters of Physiotherapy and Bachelor of Exercise Science from Griffith University on the Gold Coast. Jorden's passion for Physiotherapy came from his experience playing soccer both in Australia and USA. He has been the Physiotherapist for local Australian rules football teams, as well as soccer teams and is currently working as a sports trainer with The Gold Coast Suns. Jorden has a keen interest for treating all athletes, however has developed a strong interest in working with ACL clients.
Jorden uses the latest evidence-based practice to effectively treat every client individually and get them back to their optimal health. This involves many treatments including joint mobilisation, dry needling, deep tissue work and importantly exercise-based rehabilitation.
Jorden enjoys participating in all sports, however has a strong passion for surfing, soccer and strength and conditioning. Jorden is currently being trained by Jeremy Borzillo and Christian Woodford at WSSC.
Milestones & Achievements:
Bachelor of Exercise Science – Graduated 2015
Masters of Physiotherapy – Graduated 2017
Level 1 Sports Trainer
Physiotherapist Brimbank Stallions FC – 2018 Promotion
Sports Trainer for Gold Coast Suns – Current
GEMt Level 1 Dry Needling – 2018
Mastering Lower Limb Tendinopathy – PD course 2018
Multiple ACL Courses – PD 2017/2018
​La Trobe Running Symposium – PD 2018
Experience:
Anterior Cruciate Ligament (Pre & Post OP)
Acute Injuries (joint sprains, muscle strains, ankle sprains, lower back/neck strains)
Chronic Pain
Tendinopathies
Stress fractures
Cervicogenic Headaches